Queen's Downfall in the U.S. (My Recollection)

(New! Very rough draft!! ;)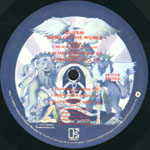 Back to the Queen Concert Memories Archive
Some newer Queen fans have written to the newsgroup wondering exactly when/why Queen lost their popularity in the US market; living in Iowa, here's how I remember it.
In about 1978/79, Queen was everywhere. "Bohemian Rhapsody" had been a hit in 1975, the double-A sided "We Will Rock You/We Are The Champions" was just a hit in 1977, and Queen's new Jazz album had just been released with the double-A sided "Bicycle Race/Fat Bottomed Girls" currently on the charts. "Bicycle Race/Fat Bottomed Girls" also got played back-to-back on radio stations, like "We Will Rock You/We Are The Champions" did a year before (and continues to).
Queen recorded the Jazz tour and released it as the double-album package Queen Live Killers in 1979. Some people loved it because of the actual performances (see my concert review from 1980), and some hated it because of its mixing problems; Roger Taylor even publicly disowned it.
At that time (and into the early '80s), Queen songs such as "Tie Your Mother Down", "Get Down, Make Love", "Death On Two Legs", "'39", and "Spread Your Wings" got a decent amount of air play on rock stations; now one is lucky to hear "Bohemian Rhapsody", "You're My Best Friend" or "Fat Bottomed Girls" (never played back-to-back with "Bicycle Race" of course).
In late '79, everyone was eagerly awaiting the next single, since Queen had a record of releasing a studio album every year like clockwork. 1980 was approaching, and Queen's last studio album was Jazz in 1978. "Crazy Little Thing Called Love" came out as a single in late '79, and was a smash, leading to everyone anticipating the new Queen album and buying The Game instantly when it was finally released in mid-1980. Other new singles from the album got airplay…not just "Another One Bites the Dust": I remember hearing "Play the Game" quite a bit, "Need Your Loving Tonight" somewhat, and "Save Me" maybe once or twice. Even the B-Side of "Another One Bites The Dust" - "Don't Try Suicide" - got some airplay, and was somewhat well-known (and was a staple at our skating rink!).
During the success of The Game, Queen was recording music for the soundtrack of the upcoming movie Flash Gordon; this soundtrack was then eventually released as an official Queen album. Only one single, "Flash's Theme A/K/A Flash" (as it appears on the label), was released (with sound clips from the movie...not included on the album mix). Everyone knew this song, though I see by my Billboard book that it didn't even quite reach the Top 40; however, back then, Top 40 stations actually played the entire Top 40 and more.
It was becoming over a year again before the next Queen album, when the Greatest Hits album was released with a new song: "Under Pressure", a duet with David Bowie. This was released as a single and got in the Top 30, but honestly I don't remember it being on the radio much or many other people noticing it (and obviously not too many remembered by the time Vanilla Ice's "Ice Ice Baby" was released with a sample in 1990). Today, this is one of Queen's best-known hits, and even gets airplay.
Still, everyone was anxious for another full-length studio rock album, just like before The Game was released. In the past, whenever Queen had tried something "different", it had been a success. But in 1982, they released Hot Space: a somewhat "funk" album, though many would call it an almost full-length disco album…and this was released at the peak of the anti-disco era. Queen fans were wondering, "What the h*** is this?!". Queen thought people wanted more music like "Another One Bites The Dust". But most of Queen's fans were rockers, and Queen had a huge reputation as an FM rock band. Still, "Body Language" got in the US Top 10 (though not as well-known today)…much higher than "Under Pressure". But no other singles from the album got in the US Top 40.
So now the once solid ground Queen stood on was becoming a little shaky. Queen's next record was a quality rock album: The Works. However, the first single released was "Radio Ga Ga"…and though not a bad song, many Americans of course deemed it "stupid" because of the name. The song (and the video) got airplay and was a decent hit (though barely in the Top 40), but their radio support was waning. So now everything was really riding on their next single.
If they had released "Hammer To Fall" or "Tear It Up" at that point in America, they may have remained as popular here as they did in every other country during the '80s. But instead, they released "I Want To Break Free"…which wasn't bad, but it was the video that killed them: featuring the band in drag. Apparently, the video was a spoof of a British TV show, but some idiot decided to release it here in the homophobic United States. No one of course knew of the TV show it was spoofing, and (especially with Freddie's mustache), people began to think Freddie was gay. (Though obviously one must wonder what they thought in the '70s with all the makeup, high heels and eye liner!) I stayed up late to see Queen on TV as I always did whenever they were on, and Friday Night Videos (we didn't have cable) premiered the "I Want To Break Free" video. The video seemed to be released slightly before the single, and I only remember hearing the song on the radio maybe once or twice at the most. Friday Night Videos played the video once or twice again...and after that, all traces of Queen were banished from Top 40 stations for the rest of the '80s.
In summer of 1985, I saw that something called Live-Aid was going to be on ABC (a 3-hour version of what MTV had previously aired), hosted by Dick Clark. I recorded the whole thing on my little audio cassette recorder. No signs of Queen anywhere. I just happened to think I saw Freddie Mercury at the very end when everyone was on stage singing "Do They Know It's Christmas?", but other than that didn't even have clue Queen had been a part of it until a couple years later. Funny that now Queen's performance at Live-Aid is featured on VH1's 100 Greatest TV Music Moments.
The A Kind Of Magic album was released in 1986. I never heard anything from this album on the radio, ever. I saw the singles climbing in the Top 10 in the UK ("One Vision", "A Kind Of Magic", "Princes Of The Universe", "Who Wants To Live Forever?"), but in the US they weren't even cracking the Top 50 because of lack of airplay. I did see them every few weeks on the late-night TBS Superstation video show Night Tracks, and recorded an interview with Queen off Entertainment Tonight (which you can also find on my site), but other than that…nothing. Even though "One Vision" was the theme for the movie Iron Eagle, and "Princes Of The Universe"/"Who Wants To Live Forever?" for Highlander, this apparently wasn't enough to get them on the radio. As Brian May says, once Queen conquered America they concentrated on the rest of the world…but lost America, without really noticing.
At the end of the '80s, The Miracle was released. "I Want It All" was released as a single. Though it didn't enter the Top 40, I remember driving in my car when it came on for the first time on a rock station and this at least put a smile on my face: I remembered the excitement of hearing a Queen song on the radio in the early '80s/late '70s for the first time. The song actually came on the radio a halfway decent amount of time, and while on a school trip I remember the rest of the "alternative" music crowd suddenly played it on their boom-box.
But Queen had another set-back: For a few years in the late '80s, Queen was one of the few rock bands whose albums had not been re-issued on CD (except as expensive "import" discs). So a lot of the old non-single songs that once got airplay on rock stations were apparently forgotten by DJs…and everyone else other than Queen fans. Hollywood Records re-released and remastered the Queen catalog in 1991, but this was too late. Innuendo came out in 1991, with no airplay. Freddie Mercury died in November 1991, and no one knew who he was.
Entertainment Weekly printed a 1/4 page summary article on Freddie hidden in the middle of the magazine (I'm trying to find it...I'll scan it off). (Meanwhile, the new Madonna album received an A+....)
A couple months later, we went to see Wayne's World, and I was so surprised that I my friends in high school and I were not the only ones who had sung/headbanged to "Bohemian Rhapsody" in the car! Then "Bohemian Rhapsody" became even slightly a bigger hit in 1992 than it had in 1975. The whole Concert For Life extravaganza followed in 1992 with such big "macho" names as Metallica praising Queen; I was amazed at walking down my dorm room hall, and hearing MTV's broadcast of the Concert For Life coming out of most of the rooms…even during the edited reruns. Queen at least went out on top.
How music changes through the years.