Queen 1986: Knebworth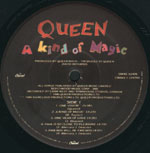 I didn't get to see Queen on the Works tour in'84 (had a ticket, ill health!) but Knebworth '86 was incredible. Travelled down overnight from Glasgow, Scotland hit the traffic on the way in at about 2 miles out - 2 hours later at the gate. Security doing the usual thing, no bottles allowed, you have to buy stuff inside - in bottles! and don't take that camera in etc. No problem, I was going to see Queen. Waited all day for the music to start, fans all around, happy, excited, impatient, kind, friendly - like a family. Talked to people from all over, Europe, America, Japan, Australia - one guy had flown in from Moscow just for the concert and was flying back that night - doubt if he made it, remember the traffic!
Then the music started. Belouis Some, lasted 15 mins at most, fans not happy with his set, not their kind of thing. Status Quo - that's more like it, loud fast stadium type rock, the first time I'd seen Quo, seen 'em many times since. Big Country, jock rock, fast loud bagpipe guitars - good but we knew Queen were coming.
Magic helicopter came in crowd roared, band may have waved, not sure! Again we waited. Groundswell of sound, no words just noise growing with time. The intro synths for "One Vision", dry ice, almost drowned out by the crowd, volume went up and .. there they were! Freddie running around, owning the stage and the crowd. John phlegmatic as always, Brian and Roger,, brilliant musicians. Hit after hit, singing along - how did Freddie do it - longer, louder, higher "dayos" than anyone had any right to. All too soon the final songs - Splitting "We Will Rock You" and "We are the Champions" with "Friends Will be Friends" and then Freddie out with his crown and robes.
Gordon Steadwood