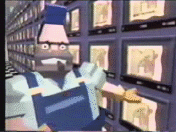 '80s spots on my site
OVERKILL: Jim's '80s Music Buying Guide!

This is a brand-new work-in-progress. In buying 45s, albums, and now replacing them all on CD to play in a club, I've noticed descrepancies in many of these songs that I'm passing along. Many '80s tunes are available in various lengths/remixes (often not labeled on CD), and I'm attempting to straighten it all out. WHAT IT IS: I'm listing '80s songs on a grid, displaying the single version lengths vs. the album version lengths, inserting notes, plus giving hyperlinks which take you to a specific CD store and a CD which has the exact version of whatever '80s song I'm writing about...no more guessing or searching!
Many '80s hit singles are still hard-to-find on CD...here's where a few are. Also searches 1850+ stores for Milli Vanilli's Girl You Know It's True on CD.
Links to get free/cheap/rare CDs. Also has lists of my favorite '80s 12" singles (and where to get them on CD) and '80s music videos.
Contains iconic '80s music video still images (Prince, Madonna, ZZ Top, A-ha, Duran Duran, Mr. Roboto, Max Headroom, etc.). [Requires Windows 95 and up and is an 800k .zip file (you'll need an unzip utility like WinZip to open the file, which can be found all over the web if not on your computer already)] The resolution on these isn't as great as I'd like since I scanned them before getting my nifty new graphics card, but it's still fun. After the screensaver is installed, you might want to change the settings (in your Control Panel under "Display" and then "Screen Saver" and "80s Videos") to "tiled pictures" and then the screensaver will display 4 smaller pictures at once instead of one big one (and they won't look as grainy). I'll probably add more scans to it eventually!
Page about the beloved computer; contains 3 Commodore Amiga TV commercials from 1989!
Random pictures of some of the world's funniest people (many from the '80s): Tito Jackson, Pam Dawber, The Solid Gold Dancers, etc.
Just happened to find my Kiss Army insert from my Kiss Dynasty album (1979) and scanned it off...look how cheap the stuff was! Thought I'd stick this on my '80s index though since the album and the "I Was Made For Lovin' You" single were both on the chart into the '80s.
COMING SOON: Scans of the picture sleeves from my collection of almost 200 '80s 45s (makes great backdrop wallpaper for your computer :)

The main index of my site, including non-'80s-specific stuff (lots of Pink Floyd, Queen, etc.). Does have a link to the Valley Girls Web Translation page, however (translates web pages into Valley).
---
---

This Totally Rad Eighties Webring site is owned by J Patterson

Click for the [ Next Page | Skip It | Next 5 ]

Want to join the ring? Click here for info.

---
---
---
---
---

You're one of
silly '80s people who have been here since Feb. 15, 2000.